---
---
---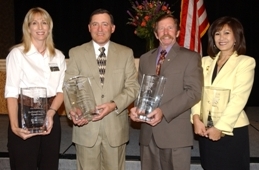 COMMITTED to BUSINESS SUCCESS
---
---
---
WHO WE ARE
The Rawlins-Carbon County Area Chamber of Commerce is a private, non-profit, membership-driven organization representing over 130 member businesses and individuals. We are the largest chamber in the region.

OUR MISSION:
to promote commerce, business development and work toward economic growth and prosperity

FUNDING:
The Chamber is a private organization funded by membership dues and corporate investments. We are not a city agency and receive no tax dollars.

OUR VALUES:
The Chamber is guided by a vision of building a vibrant and prosperous community through business leadership. We believe in six core values.
MEMBERSHIP:
Membership is open to all businesses that maintain a voluntary annual dues investment. Benefits of membership include networking opportunities, community involvement, image enhancement, political advocacy, information access, numerous discounts and benefits and heightened credibility.
EXCELLENCE: Meeting the highest expectations
STEWARDSHIP: Respecting and protecting community resources
INTEGRITY: Honest and trustworthy in action and intent
VISIONARY: Imagining the possibilities
INCLUSIVE: Respecting and valuing broad participation in community dialog and decision-making
COURAGE: Acting with strength of conviction even in the face of adversity


WHAT WE DO

MEMBER SERVICES: Our members have access to unique networking opportunities, educational programs, business services and special events designed to help their business succeed.
ECONOMIC DEVELOPMENT: Attraction, retention, expansion, workforce development, and recognizes the critical role of redevelopment. We will continue to attract targeted new business investment while working to enhance the success of existing businesses.
PUBLIC POLICY: Shaping the issues that governs our business environment. We are the voice of business and the guardians of the business climate. Our work will ensure that Rawlins and Carbon County remain an ideal city and county in which to live and do business.
COMMUNITY VISION: We take the lead in shaping a powerful community vision – stimulating dialog, building a brain trust and achieving synergy.