---
---
---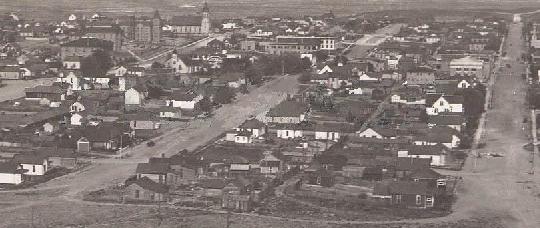 COMMUNITY/COUNTY
HISTORY-PROFILE
---
---
---
HISTORY OF RAWLINS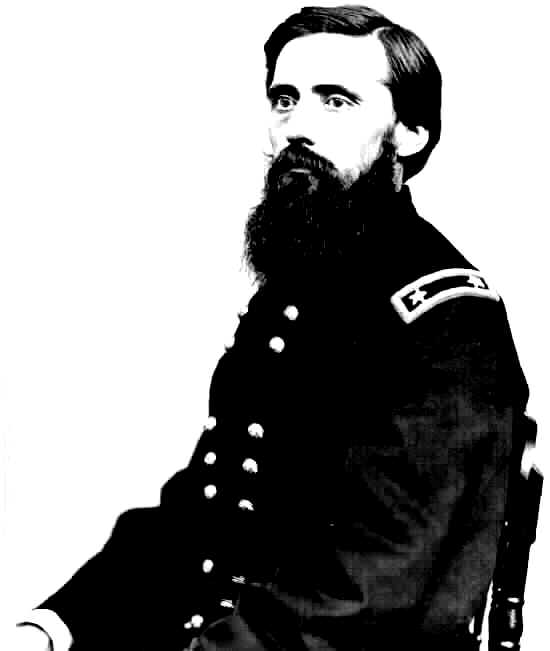 Gen. John A. Rawlins
In 1867, while in command of the troops protecting the crew surveying the rout of the first trans continental railroad, General John A. Rawlins, Chief of Staff of the U.S. Army, expressed a wish for a drink of good, cold water.
A detachment of scouts explored the countryside as they rode west and approached the hills that stand guard over the present city they discovered a spring.
General Rawlins declared it was the most refreshing drink he had ever tasted and exclaimed, "If anything is ever named after me, I hope it will be a spring of water." General Grenville Dodge, commander of the survey party, immediately named it "Rawlins Springs" and the community that grew around it bore the same name. Later shortened to Rawlins, the town was incorporated in 1886 and designated the seat of Carbon County.
Created in 1868 by Dakota legislature, the county's name was derived from extensive coal deposits found in the area. Originally covering the entire width of the Wyoming Territory, Carbon County was reduced in size by the creation of Johnson County in 1875 and Natrona County in 1888. Historically it has been traversed by the Overland Trail, Oregon Trail, Mormon Trail and both the original route of the Union Pacific Railroad and the Lincoln Highway. Interstate 80 is now the "trail" of choice for most travelers through the county, although several scenic back-roads and by-ways offer pleasant alternatives.
CITY PROFILE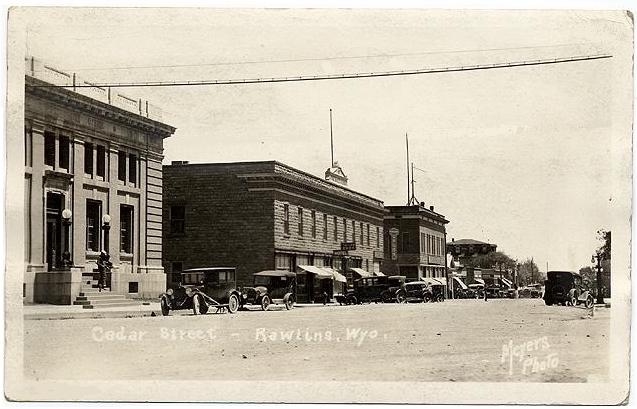 Located on Interstate 80. Rawlins and Carbon County are located in the south-central portion of Wyoming and is the third largest county in Wyoming. Its southern boundary is the Wyoming/Colorado border.
The Continental Divide, which separates the eastern and western watersheds of North America, runs north and south through the county. Albuquerque, Billings, Boise, Denver and Salt Lake City are all within a 500 mile radius from Rawlins.
Rawlins is in the Mountain Standard time zone. The latitude is 41.791N. The longitude is -107.238W. Elevation is 6,827 feet. The estimated population, in 2006, was 9,006. The city is 8 square miles on 5,120 acres, the county is 7,991 square miles and 5, 114, 240 acres. The climate is semi-arid, low relative humidity. Annual precipitation is 10.9 inches average with snowfall at 41.5 inches. The average temperature is 42.2 degrees, summer average 67.6 degrees and winter average 35.8 degrees Fahrenheit, with a 100 to 112 day growing season.
Carbon County is one of 23 counties in Wyoming. The estimated population in 2006 was 15,271. This was a decrease of -2.35% from the 2005 census. In 2006, the per capita personal income in Carbon County was $25,432. This was an increase of 21.1% from 2005. The 2006 figure was 82% of the national per capita income, which was $30,906.
Parts of the Medicine Bow National Forest located in Carbon County offer a wide variety of year-round activities, The valley of the North Platte River in central Carbon County is one of the most productive livestock-raising areas in Wyoming. Wildlife abounds throughout the county and some of the finest fishing spots are just and easy drive away.
The Rawlins district of the Bureau of Land Management (BLM) administers over two million acres of public land in Carbon County. These lands are available for a variety of multiple uses including livestock grazing, mineral production and wildlife habitat. Recreation opportunities on public land in Carbon County including hunting, fishing, camping, snowmobiling, mountain biking, hiking and wildlife observation.
Western Carbon County contains the southern portion of the unique Great Divide Basin, which does not drain into any ocean. The county is a study in contrasts - from snow-capped mountains and high plateaus in the south and north, to vast prairie lands in the east and the Red Desert basin in the west. Elevations range from 5,000 feet in the Red Desert to 12,600 feet in the Snowy Range.
Carbon County contains active underground and strip coal mines and oil and gas fields. Sinclair Oil Refinery in Sinclair, is one of the largest refineries in the United States. Union Pacific Railroad provides freight hauling and dockside loading to industrial developments and Rawlins serves as a crew change point.
Rawlins is ranked No. 3 in the state, in the ePodunk Historic small towns index.
---
STATISTICS
RAWLINS
WY
US
POPULATION
Number
Number
Number
Total population
9,006
Square miles (land)
7.40
Population per square mile
1,153.36
5.09
79.56
GENDER
Number
Pct
Pct
Pct
Male
4,501
52.7
50.3
49.1
Female
4,037
47.3
49.7
50.9
AGE
Number
Pct
Pct
Pct
15 or younger
1,761
20.6
20.9
21.4
16-24
1,324
15.5
15.3
13.9
25-44
2,512
29.4
28.1
30.2
45-64
2,065
24.2
24.0
22.0
65+
876
10.3
11.7
12.4
Number
Number
Number
Average age (years)
35.70
36.27
36.22
RACE AND ETHNICITY
Number
Pct
Pct
Pct
White
7,331
85.9
92.1
75.1
Black or African American
69
0.8
0.8
12.3
American Indian and Alaska native
125
1.5
2.3
0.9
Asian
72
0.8
0.6
3.6
Native Hawaiian and other Pacific islander
8
0.1
0.1
0.1
Some other race
707
8.3
2.5
5.5
Two or more races
226
2.6
1.8
2.4
Hispanic or Latino
1,797
21.0
6.4
12.5
Sources: U.S. Census Bureau, 2000 Census; ePodunk
Note: Hispanic ethnicity is a separate data category from race. This number should not be added to race totals.
---
RAWLINS
WY
US
CIVILIAN EMPLOYMENT BY INDUSTRY
Number
Pct
Pct
Pct
Manufacturing
276
6.8
4.9
14.1
Wholesale trade
70
1.7
2.3
3.6
Retail trade
485
11.9
11.8
11.7
Information
84
2.1
2.2
3.1
Finance and insurance
108
2.6
3.1
5.0
Professional, scientific and technical services
59
1.4
3.7
5.9
Table shows selected industries
Sources: 2000 Census, U.S. Census Bureau; ePodunk
---
RAWLINS
WY
US
HOUSING UNITS
Number
Number
Number
Total housing units
3,896
RENTER-OCCUPIED HOUSING UNITS
Number
Pct
Pct
Pct
Renter-occupied housing units
1,084
27.8
26.0
30.8
Number
Number
Number
Average number of household members
2.20
2.21
2.36
Average number of rooms
4.45
4.46
4.04
Average number of vehicles
1.32
1.51
1.19
Median year structure was built
1968
1972
1969
Median year householder moved in
1999
1999
1998
Median rent ($)
314
373
519
Median rent asked for vacant units ($)
326
358
469
Number
Pct
Pct
Pct
Rent includes utilities
241
22.2
27.7
16.5
Number
Number
Number
Rent as a pct of household revenue
19.3
22.5
25.5
OWNER-OCCUPIED HOUSING UNITS
Number
Pct
Pct
Pct
Owner-occupied housing units
2,259
58.0
60.5
60.2
Number
Number
Number
Average number of household members
2.56
2.59
2.71
Average number of rooms
6.44
6.54
6.30
Average number of vehicles
1.69
1.62
1.64
Median year structure was built
1963
1974
1971
Median year householder moved in
1990
1992
1991
Median value ($)
67,400
91,500
111,800
Number
Pct
Pct
Pct
With mortgage or contract to purchase
1,128
49.9
46.4
55.4
With second mortgage, equity loan
279
12.4
10.3
12.7
Number
Number
Number
Median price asked for vacant housing ($)
62,200
71,000
89,600
Monthly cost, with mortgage ($)
681
825
1,088
Monthly cost, without mortgage ($)
190
229
295
Sources: U.S. Census Bureau, 2005 Census; ePodunk
---
Home - Business Index - Relocation Guide - Visitors Guide