---
---
---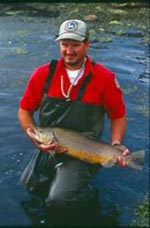 FISHING GUIDE
---
WYOMING FISHING INFORMATION
Information
---
The Wyoming Game and Fish Department, under the direction of the Wyoming Game and Fish Commission, administers lands and public easement areas that are home to vast numbers of fish and wildlife. The department maintains approximately 413,000 acres of land under deed, lease or by agreement and continually strives to acquire new access areas. These areas include access to nearly 225 miles of streams, over 21,000 lake surface areas, and more than 148 miles of road right-of-ways. Management of these lands demonstrates our state's commitment to its precious wildlife heritage and those people who seek to enjoy our wildlife and wild lands.

Wyoming's wildlife habitat management areas provide crucial winter habitat for big game and important production areas for small birds and mammals, production and feeding areas for birds of prey, and migration staging areas for Neotropical birds and shorebirds. In addition, these areas provide production and feeding habitats for waterfowl and upland game birds and fish.

Many other state and federal agencies also provide access to lands in Wyoming. Among them are the State Land and Farm Load Office, U.S. Forest Service, U.S. Bureau of Land Management and the U.S. Bureau of Reclamation.
Access to Wyoming's Wildlife is a guide to the wildlife habitat management areas and public access areas throughout the state. The guide will tell you what facilities are available at each location, including facilities for the physically challenged, what kinds of fish and wildlife might be found, and what types of recreational activities are permissible.

When you visit Wyoming and any of these areas, please respect the environment and the rights of private landowners. Stay on designated roads and trails, and keep areas clean and litter free. Pick up a copy of the latest hunting and fishing regulations available at any Wyoming Game and Fish Department office, and know the regulations for each site you visit.

This publication is dedicated to all who pursue outdoor wildlife-related recreation opportunities in Wyoming. People play an important role in the conservation and preservation of the environment. Enjoy Wyoming's wildlands. Take good care of them in order to share them with future generations.
Raising Fish
The Wyoming Game and Fish Department currently maintains eleven fish hatcheries and rearing stations. These facilities are an integral part of our efforts to provide quality fishing, native species restoration, and fisheries management. The hatcheries are scattered across the State, some in remote locations. They deal with a complex issues, including water management, predators, production management, and disease treatment and control.
In addition to hatching and raising fish from on site brood stocks, the Culture section includes a Spawning crew. Through out the year, this 2-man crew monitors and spawns wild stocks of fish and transports them to a hatchery for raising. The Distribution crew is responsible for transporting fish from the hatcheries to their destination waters.
Fishing License costs
| | | | | |
| --- | --- | --- | --- | --- |
| Type of License | Amount | | | |
| FISH Commercial Fish Hatchery | $151 | | | |
| FISH Deal In Live Bait | $56 | | | |
| FISH Fishing Preserve | $111 | | | |
| FISH Nonresident Annual | $76 | | | |
| FISH Nonresident Daily | $11 | | | |
| FISH Nonresident Youth Annual | $15 | | | |
| FISH Resident Annual | $19 | | | |
| FISH Resident Daily | $4 | | | |
| FISH Resident Youth Annual | $3 | | | |
| FISH Seine or Trap | $16 | | | |
| | | | | |
---
Wyoming Game and Fish
Visitors Guide - Wyoming Travel Information
The Carbon County Visitors Counsel is located in Riverside, Wyoming off HWY 70. Click on the picture for more information on things to do in Carbon County.
---