---
---
---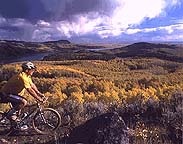 MOUNTAIN BIKING - OFF ROAD VEHICLES
---
MOUNTAIN BIKING
Rules of the Trail
The following is the official list of mountain biking rules of the trail from IMBA, otherwise known as the International Mountain Bicycling Association. These mountain bike rules are designed to minimize our impact on our environment as well as promote friendly relationships between all trail users by creating a safe environment for us all. By following these rules we help ensure our access to trails in our local communities will continue and hopefully grow. Every mountain biker should know and live by these mountain biking rules from IMBA:
Rules of the Trail
The way we ride today shapes mountain bike trail access tomorrow. Do your part to preserve and enhance our sport's access and image by observing the following rules of the trail, formulated by IMBA, the International Mountain Bicycling Association.
These rules are recognized around the world as the standard code of conduct for mountain bikers. IMBA's mission is to promote mountain bicycling that is environmentally sound and socially responsible.
1. Ride On Open Trails Only.
Respect trail and road closures - ask if uncertain; avoid trespassing on private land; obtain permits or other authorization as may be required. Federal and state Wilderness areas are closed to cycling. The way you ride will influence trail management decisions and policies.
2. Leave No Trace.
Be sensitive to the dirt beneath you. Recognize different types of soils and trail construction; practice low-impact cycling. Wet and muddy trails are more vulnerable to damage. When the trail bed is soft, consider other riding options. This also means staying on existing trails and not creating new ones. Don't cut switchbacks. Be sure to pack out at least as much as you pack in.
3. Control Your Bicycle!
Inattention for even a second can cause problems. Obey all bicycle speed regulations and recommendations.
4. Always Yield Trail.
Let your fellow trail users know you're coming. A friendly greeting or bell is considerate and works well; don't startle others. Show your respect when passing by slowing to a walking pace or even stopping. Anticipate other trail users around corners or in blind spots. Yielding means slow down, establish communication, be prepared to stop if necessary and pass safely.
5. Never Scare Animals.
All animals are startled by an unannounced approach, a sudden movement, or a loud noise. This can be dangerous for you, others, and the animals. Give animals extra room and time to adjust to you. When passing horses use special care and follow directions from the horseback riders - ask if uncertain. Running cattle and disturbing wildlife is a serious offense. Leave gates as you found them, or as marked.
6. Plan Ahead.
Know your equipment, your ability, and the area in which you are riding -- and prepare accordingly. Be self-sufficient at all times, keep your equipment in good repair, and carry necessary supplies for changes in weather or other conditions. A well-executed trip is a satisfaction to you and not a burden to others. Always wear a helmet and appropriate safety gear.
Keep trails open by setting a good example of environmentally sound and socially responsible off-road cycling.
Injury - Safety Tips
Below is a list of some common biking injuries and how to handle them. Beyond those listed, there are many more serious injuries that can happen on the trail. Please take a first aid training course to learn how to treat a broader range of injuries.
Lacerations
Clean the wound carefully. Gently spray clean water from a water bottle over the wound to clear away debris. Don't touch the wound or use soiled materials to cover the wound. If possible, apply a sterile dressing to the wound. A clean, dry piece of clothing can be used as dressing.
Severe cuts may require pressure to stop the bleeding. Putting pressure directly on the wound with a cloth or the hand may be enough to stop steady bleeding.
The sides of the wound may need to be pushed together as well to slow the bleeding. In the case of arterial bleeding ? where blood spurts from the wound ? pressure must be applied to the artery itself on a point near the wound. If possible, raise the wound above the heart to slow the bleeding.
Concussion
It's important to know that a rider can get a concussion even if he or she does not lose consciousness. It's always best to be cautious with a head injury. Don't let the rider get back on the bike ? just walk your bikes until you can get help.
Continue to monitor the rider's condition. Causes of concern include vomiting; a headache that progressively worsens; becoming less alert or less conscious; and bruising behind the ear or around the eyes.
Broken collarbone
This is a common injury, and it's one that many riders have seen before. Create a sling ? you'll probably have to use a shirt ? to secure the arm that is on the same side as the break. Keep the arm at a 90-degree angle. If you have safety pins, the bottom of the rider's own shirt can be pulled up around the arm and pinned around the chest of the shirt.
Broken arm, wrist or leg
Secure a splint that covers from above the broken area to below it. Use lightweight but strong materials for the splint. Sticks, a flat piece of wood or even a bike-mounted pump can be used. Clothing or an inner tube can be wrapped around the splint to secure it. Create a sling to secure a broken forearm or wrist. For an upper-arm break, create a sling that wraps around the neck and wrist only.
Broken finger
Create a splint for the broken finger by taping it to another finger. Keep something soft, such as a piece of clothing, between the fingers to make it more comfortable.
Gear Up
Always wear a helmet and any other appropriate safety equipment for the riding conditions.
Never Ride Beyond Your Abilities
There is no shame in walking sections of the trail you don't feel confident enough to ride, and don't let anybody tell you otherwise.
Use Appropriate Equipment for the Terrain
Some bikes are better for different situations. Just because you can see tire tracks, doesn't mean you can ride it with your bike.
Keep Your Speed In Check
Always keep your speed at a level that will allow you to adjust to any unforeseen obstacles or changes in trail conditions.
Know The Trail
Never push the limits on a trail you are not familiar with. You need to get to know the trail you are riding at slower speeds before you can ride it like the trails you're used to.
Slow Down for Blind Corners
You never know what or who is around a corner when you can't see past it.
Stop and Look
Stop and look at sections of the trail that look like they may pose a challenge before you ride them.
Plan on the Crash
Always look at the consequences of crashing in a particular section or on a particular stunt before trying to ride through it. Sometimes a section can look easy to ride but can have deadly consequences to a crash.
Start Small, Go Big
Work your way up to obstacles and stunts. Find ways to practice moves in less difficult and dangerous situations or at lower speeds before committing yourself to something more dangerous.
Play It Smart
If you think what you are doing is not the smartest, you are probably right. Think about what you are doing and trust your instincts.
ORV INFORMATION
Information
Wyoming Statute 31.1.101 (K):
Type 1: A recreation vehicle primarily designed for off-road use which is (50) inches or less in width, has an unladen weight of nine hundred (900) pounds or less and is designed to be ridden astride upon a seat or saddle and to travel on at least three (3) low pressure tires.
Type2: Any unlicensed motorcycle which has an unladen weight of six hundred (600) pounds or less and is designed to be ridden off road with the operator astride upon a seat or saddle and travels on two (2) tires.
Type3: Any multi-wheeled motorized vehicle not required by law to be licensed and is designed for cross country travel on or over land, sand, snow, ice or other natural terrain and has an unladen weight of more than nine hundred (900) pounds.
The Wyoming State ORV program has worked with the USDA Forest Service, BLM and the Wyoming Game and Fish Department, the Office of State Lands and the Wyoming Division of State Parks and Cultural Resources to identify roads, trails and open areas.
Enrollment decisions are the responsibility of each land managing agency at the local level, not the State Trails Program. Maps provided by the State ORV Program should be considered only as a guide since designations by local land managers will continue to evolve and are subject to either addition or deletion at any time. Please visit the local land manager's office to get the most current ORV designation information and refer to their travel management maps.
| | | | | |
| --- | --- | --- | --- | --- |
| Name | Location | Address | Phone | ORV Permit Information |
| Brush Creek-Hayden District | Saratoga | South Highway 130 | 307.326.5258 | 877.996.7275 |
| Wyoming State Trails | Cheyenne | 2301 Central Avenue | 307.777.7477 | 877.996.7275 |
| | | | | |
| | | | | |
| | | | | |
| | | | | |
---
Visitors Guide - Wyoming Travel Information
The Carbon County Visitors Counsel is located in Riverside, Wyoming off HWY 70. Click on the picture for more information on things to do in Carbon County.
---