---
---
---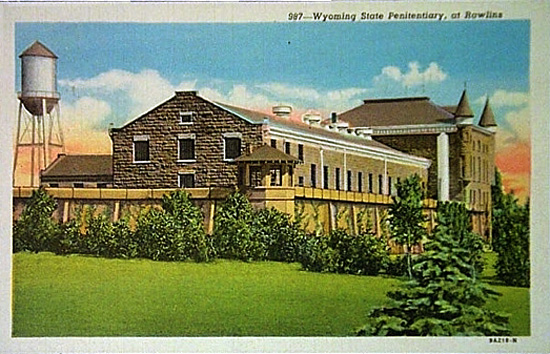 WYOMING FRONTIER
PRISON
---
---
---
WYOMING STATE PENITENTIARY
Tour Schedule *
| | | | | | | |
| --- | --- | --- | --- | --- | --- | --- |
| Monday | Tuesday | Wednesday | Thursday | Friday | Saturday | Sunday |
| 9:30-AM | 9:30-AM | 9:30-AM | 9:30-AM | 9:30-AM | 9:30-AM | 9:30-AM |
| 10:30-AM | 10:30-AM | 10:30-AM | 10:30-AM | 10:30-AM | 10:30-AM | 10:30-AM |
| 11:30-AM | 11:30-AM | 11:30-AM | 11:30-AM | 11:30-AM | 11:30-AM | 11:30-AM |
| 12:30-PM | 12:30-PM | 12:30-PM | 12:30-PM | 12:30-PM | 12:30-PM | 12:30-PM |
| 1:30-PM | 1:30-PM | 1:30-PM | 1:30-PM | 1:30-PM | 1:30-PM | 1:30-PM |
| 2:30-PM | 2:30-PM | 2:30-PM | 2:30-PM | 2:30-PM | 2:30-PM | 2:30-PM |
| 3:30-PM | 3:30-PM | 3:30-PM | 3:30-PM | 3:30-PM | 3:30-PM | 3:30-PM |
| 4:30-PM | 4:30-PM | 4:30-PM | 4:30-PM | 4:30-PM | 4:30-PM | 4:30-PM |
| | | | | | | |
| | | | | | | |
*Evening tours available by appointment
---
---
Sit in a gas chamber at
former Wyoming State Prison

From Out West #40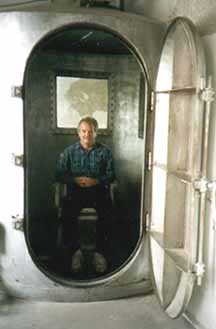 I was smiling during my visit. The fellows who met their fate here weren't so upbeat.
By Chuck Woodbury
editor, Out West
Rawlins' biggest attraction is its Frontier Prison, which was the actual Wyoming State Prison from 1901 to 1981. Today, it's just a place for tourists to visit.
I'll tell you what: spending time in this prison must have been a Hell on Earth!
If you think we live in a civilized age, just check out this place. Twenty years ago, many prisoners were living in here, two inmates to a 5-foot by 7-foot cell, without adequate heating and with only cold showers. And those were the good years!
For the prison's first 15 years, there was no heat, no plumbing, and no hot water. Things gradually improved to parts of the facility, but not a lot.
Today, you can tour the prison for only $3.50. It's a bargain. Bring your kids, especially those that might be prone to get into trouble. Let them see what life can be like "on the inside."
On the hour-long tour, you'll see the three cell blocks, death row, the punishment pole (where inmates were flogged), the cafeteria (where the best jobs were for prisoners because the room was warm), the barber shop, the solitary confinement cells, the library, and the gallows and gas chamber.
Before the gas chamber came along, prisoners were hung with a rinky-dink system. One fellow had to be hung twice after the first try failed. Most inmates didn't have their necks broken, but slowly strangled.
The gas chamber was a big improvement. I was the only one on my tour who opted to go inside to sit a spell. Eerie! This is one of 11 exact same models, some of which are still in use. Six men died in this one. I, of course, lived to tell about it.
The tour also takes you into one of the solitary confinement cells, where the guide shuts the door. The unheated room is pitch black. Prisoners were locked in here naked.

The Book of Execution provides true accounts on what tourture and execution were and are really like. The details, documents and pictures make this book erie and unable to put down!
Cell Block A is the original cell block, and was used right up to the end. One of two prisoners would share 35 square feet. After space was made for a bed or bunkbed and a small desk, all that was left was an area about five feet by eighteen inches — barely room to work out a leg cramp.
One of the more interesting stories at the prison is about one of the few female prisoners, Ann Bruce, who murdered her father. Here's her confession:
"One of the 20th day of March, 1907, I made five pies; while I was in the act of making the pies, a feeling or a wish came over me to kill someone, and this feeling I could not resist. So I went to the store and procured a bottle of poison which I knew was there. . . . While I was in the kitchen, while no one was looking, I emptied the poison in the pie. The poison was strychnine. I put the poison is the last pie I made. In the morning, ma and myself are preparing pa's lunch, and ma said to me, ''Anna, fetch me a pie from the cupboard.' I bought the pie I poisoned. I knew it was poisoned. . . It was the pie that killed my pa. After pa died I felt awfully sorry. I bawled and cried a great deal."
Personally, I don't think prisons should be cushy places, but life in this one was downright barbaric. I guess I must naive: I thought prisons like this ceased to exist 50 years ago.
©2002 by Out West Newspaper.
---

Strap Me In!
Wyoming Frontier Prison, Rawlins, Wyoming
The prison closed in 1982 and opened for visitors in 1987. Advertised as "There's a place behind bars for you," prison tours are staffed by enthusiastic youngsters who happily allow all to sit inside the gas chamber where five lawbreakers were executed.
They'll strap you in, and even shut the door if you so desire. Three times a week, night tours are offered in pitch darkness. When one guide tells of prison suicides, another tosses a dummy off the second floor into the middle of the shocked group. Ex-inmates often take the tour tell others of their experiences and nostalgic stories.


The Museum is housed in the Wyoming Frontier Prison which operated from 1901 to 1981. The "Old Pen" was the site chosen for filming of the 1987 movie "PRISON" and has been selected as the permanent location of the Wyoming Peace Officers Association Museum.


HOURS:
7 days a week 8:30 - 4:30, Wednesday 7pm tours available night tours by appointment


ADMISSION:
Free into the museum itself. Guided tours of the prison cost $6.00 for adults and $5.00 for seniors and children 6-12, children under 5 free. From Memorial Day through Labor Day, tours are offered every hour on the half hour from 8:30 a.m. to 4:30 p.m., 7 days a week. Tour schedule is scaled back from Labor Day through Memorial Day. Call for specific times.

SPECIAL EXHIBITS/EVENTS/PROGRAMS:
Cowboy Poets Gathering in July; Old West Summer Fest in August; Special Halloween Night Tours in October; Christmas in the Big House Craft Bazaar the first Saturday in December.

MUSEUM PUBLICATIONS:
Petticoat Prisoners; Savory Recipes by Unsavory Characters cookbook; Friends of the Old Pen quarterly newsletter.

The information above was obtained from the Wyoming Museum Information Board.
This information is kept as accurate as possible, however, it is recommended that you call ahead to any institution you plan to visit for operating hours and the exact location.
Tina Hill, Director
500 W. Walnut St.
Rawlins WY 82301
phone: (307) 324-4422
fax: (307) 328-4004
Home - Business Index - Visitors Guide