---
---
---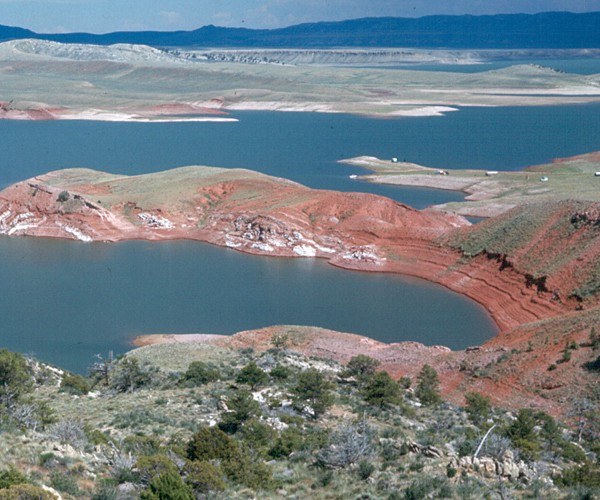 SEMINOE STATE - PARK GUIDE
---
---
---
PARK HISTORY
The Seminoe Mountains surrounding Seminoe State Park were once the site for gold prospectors during the late 1800's. The name Seminoe is commonly assumed to come from the Seminole tribe, but it's an Americanized spelling of the French name, Cimineau. Basil Cimineau Lajeunesse was a French trapper in the area in the 1800's.
Seminoe State Park, located on the northwest side of the reservoir, was established in 1965 through and agreement between the U.S. Bureau of Reclamation and the Wyoming Recreation Commission (predecessor to Wyoming State Parks and Historic Sites)
Facts and Figures
Seminoe Dam was completed April 1, 1939. The dam is a concrete arch construction and contains 210,00 cubic yards of concrete. It is 295 feet high, 530feet long, 15 feet wide at the top and 85 feet wide at its base. The crest elevation is 6,361 feet. The reservoir has 180 miles of shoreline and a reservoir capacity of 1,017,279 acre feet of water.
Wildlife
Wyoming wildlife is at its finest in and near Seminoe State Park. Patient visitors will be rewarded with a variety of species: antelope, big horn sheep, bobcat, cottontail rabbit, coyote, elk, fox, jack rabbit, moose, mountain lion, mule deer, raccoon and skunk. Bird watchers may catch a glimpse of the American or Bald Eagle plus a variety of waterfowl. Don't forget to bring your binoculars.
Fishing
Seminoe Reservoir offers great fishing, particularly in June and July, for both trout and walleye. Both species inhabit the entire reservoir, though there are areas of greater concentration for each. State record walleye have been taken from Seminoe in years past.
Fishing licenses are required and may be purchased from: The Seminoe Boat Club, Bi-Rite Sporting Goods, Three Forks Muddy Gap Service and Miracle Mile Ranch.
Park Fees
An annual camping permit is available for both residents and non-residents. Daily camping permits are also available. Without the annual camping permit, visitors must pay daily camping fees.
An annual daily use permit is available is available for residents and non-residents and is valid for the holder and occupants of the holder's vehicle. Without the annual daily use permit, visitors must pay daily use fees.
PARK RULES
All visitors must abide by posted speed limits

Motorized vehicles must be operated on designated roads or trails. A valid drivers license or learners permit is required

Camping is permitted for a maximum of 14 consecutive days. Valid permits are required

Campsites cannot be left unattended for a period of 24 hours

Park Dumpsters are for park refuse only-litter and trash must be disposed of in provided containers

Glass containers are prohibited

Quiet hours shall be maintained in all camping areas between 10:00pm and 6:00am

Areas designated as "day use only" must be vacated by 10:00am

All pets must kept on a leash

Metal detectors are not allowed

No lifeguards on duty-swim at your own risk

Fires are permitted in fireplaces or grills as provided and must be extinguished before leaving

Fishing and boating are permitted subject to regulations prescribed by the Wyoming Game and Fish Commission

Fishing is not permitted within 20 yards of any boat ramp/dock or designated beach area

Hunting is allowed only during official seasons and subject to the Wyoming Game and Fish regulations

Fireworks are prohibited
Brush Creek / Hayden Ranger District *
| | | |
| --- | --- | --- |
| Boat Club-private | 307.320.3043 | |
| Emergency | 911 | |
| Park Headquarters | 307.320.3013 | |
---
Seminoe state park is administered by the Division of State Parks and Historic Sites, Wyoming Department of State Parks and Cultural Resources http://wyospcr.wy.us/
Visitors Guide - Wyoming Travel Information
The Carbon County Visitors Counsel is located in Riverside, Wyoming off HWY 70. Click on the picture for more information on things to do in Carbon County.
---